MODERN PHOTO WALL – HOW TO MOUNT PHOTOS ON FOAM BOARD
Today I am going to show you a super quick tutorial of how to mount photos on foam board. This is probably the easiest, awesomest and least expensive way to display your gorgeous family photos. I am a photographer and I can't have enough photos of my darling kids. Seriously. I took my kiddos out to an open field few weeks ago and shot some really fun pictures of them -see more of that session on my photography blog:BROTHERS
I dressed them in blue polos and jeans and they looked quite handsome. These photos totally inspired me to redo my HALLWAY. I loved their blue polos so much that I even painted the wall blue:-) – coming up next week.
I did not intentionally dressed them to makeover my hallway but this is what happened. Story of my life:-)
I wanted a modern gallery wall of these photos. I honestly love shutterfly's amazing metal prints as they look so chic and modern and I wanted to create that specific look, or something close to that.
( source- SHUTTERFLY)
That metal gallery wall style is quite pricey for me so I decided to mount the photos on foam board to achieve a similar chic look.
MATERIALS FOR THE PROJECT: ( some are affiliate links )
 -black or white foam board
– photos printed on thick matte paper ( tell you more below)
– multi purpose spray adhesive
– cutter
– super glue
– level
Last year I made a super fun LARGE PHOTOS DISPLAY where I used a BLACK AND WHITE engineering print from Office max. This time I wanted colored pictures and I knew that it will be a little more expensive but I thought it was ok. Guess what. The day I went to Office Max to print my photos they had a special going on and instead of $12.99 for a 16 x 20 colored print on matte paper I only paid $4.79. Yep. Lucky me. So I printed some 16 x 20 photos and some I printed in 8 x 10/2 on a 16 x 20 paper. I wanted a gallery wall with different size photos so it worked out perfectly.
STEPS:
1. Cut the foam board larger then your photo ) I found it easier to cut off the extra foam board then smooth the paper onto the exact edges
2. Spray the foam board with your spray adhesive and smooth the photo ( I used a piece of fabric )
3. Cut off the edges using level
4. Cut out small rectangles, I cut 2 same pieces and glued it together because I wanted my photo to stick out from the wall – you can skip this step and simply use 3M STICKY PADS to stick your photo boards on your wall as they are super lightweight!
4. I glued my little rectangles on the the back of the board and I laid them on the floor to see how I would arrange them on the wall, then I hung up my photos on the wall.
Tada!
All done! Was it easy? Let me tell ya, this is so super chic, modern and fun looking gallery wall in my hallway!
I get lots of compliments on this wall in my house for these photos and I love to see them, too!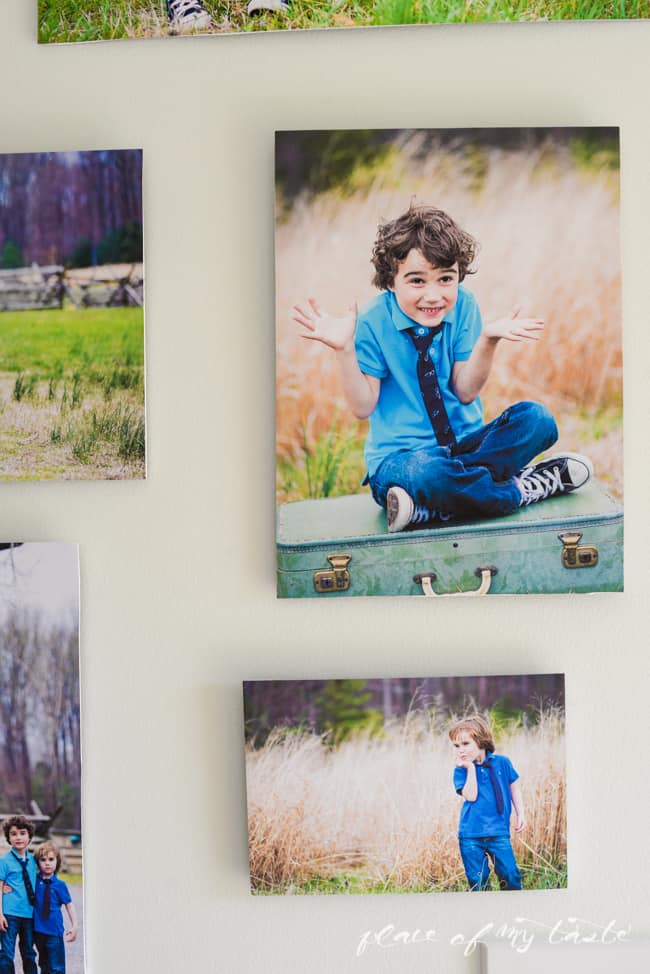 You can see a little peek of my blue wall here. Be sure to come back next week to see that fun and bright color.
Hope you liked this quick tutorial and be sure to display your photos, not just store them on your computer!
Pin it to remember for it later
Check out this great
Have a lovely day!
Cheers!