This Page May Contain Affiliate Links. Please, read our Disclosure Policy.
Today I am sharing our small RV bathroom remodel that we recently finished. And it's not a "remodel" to say, but a few small projects that completely changed our RV bathroom's look and feel.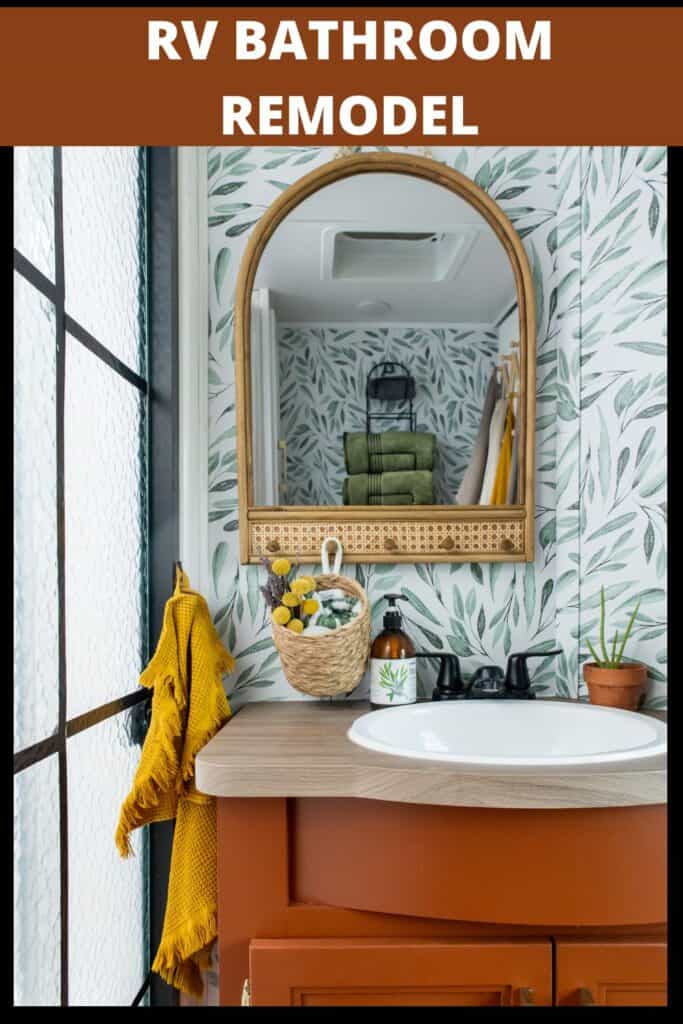 As you know, we live in our camper full time currently. We traveled with a pull-behind trailer for a year and then upgraded to our 2022 Prime Time Crusader last September. Our current camper had a nice interior with many white features – which I loved.
But…
If you have been following here for a while, you know how much I LIKE COLOR in my life. I missed color from our home on wheels and decided to take on a few small projects to make the camper feel homier and OURS.
Before I get into the details of what we changed and the resources of what you see in our bathroom space, I want you to see the before of this space. As I mentioned, we had nice and clean white cupboards and walls. The walls have cream color wallpaper.
My inspiration for this RV bathroom remodel came from a rattan arch mirror I scored (from Target). I had the mirror with us in the camper (buried in the closet!) for the last year. Ups! Unfortunately, Target does not sell it anymore, but I found a few other options that you guys can check out if you would like to recreate the look.
When it comes to RV remodeling, we always have to consider weight. This rattan mirror is a light mirror, but I barely had any studs in the wall to hang the mirror correctly. I only found stud high up, so I made a piece of macrame hanger that I attached to the back of the mirror so I could add the screw to the stud closer to the ceiling.
My favorite feature in this space is the leaf peel-and-stick wallpaper. I just love these easy-to-work-with wallpapers. Once you get bored with them, you can peel them off and get on with your new design. I used some cool murals in our old house in the past too. My laundry room mural was so striking!! Ghaw – I still LOVE it. And do you remember the large wall mural turned into framed art? So cool!
Shop the RV Bathroom look

The color of the cupboard
I wanted to use an earthy tone in this RV bathroom remodel.
Have I told you already that I love color? 🙂
I chose BEHR True Copper, which looks fabulous with the leafy wallpaper.
I added a beadboard to the opposite wall underneath the towel rack featuring the same color.
What do you think about these small changes in our RV bathroom? We love how different this small space looks.
Follow for behind-the-scenes on Instagram and check back often to see what's new around here.
More RV/Camper content for you
Cheers,
Aniko