FREE DESKTOP SCREENSAVER- DECEMBER
Here we go! This month I am ahead of myself lol! Your FREE desktop screensaver came earlier than usual. So, don't wait! Grab your FREE DESKTOP WALLPAPER for December now and enjoy throughout the month!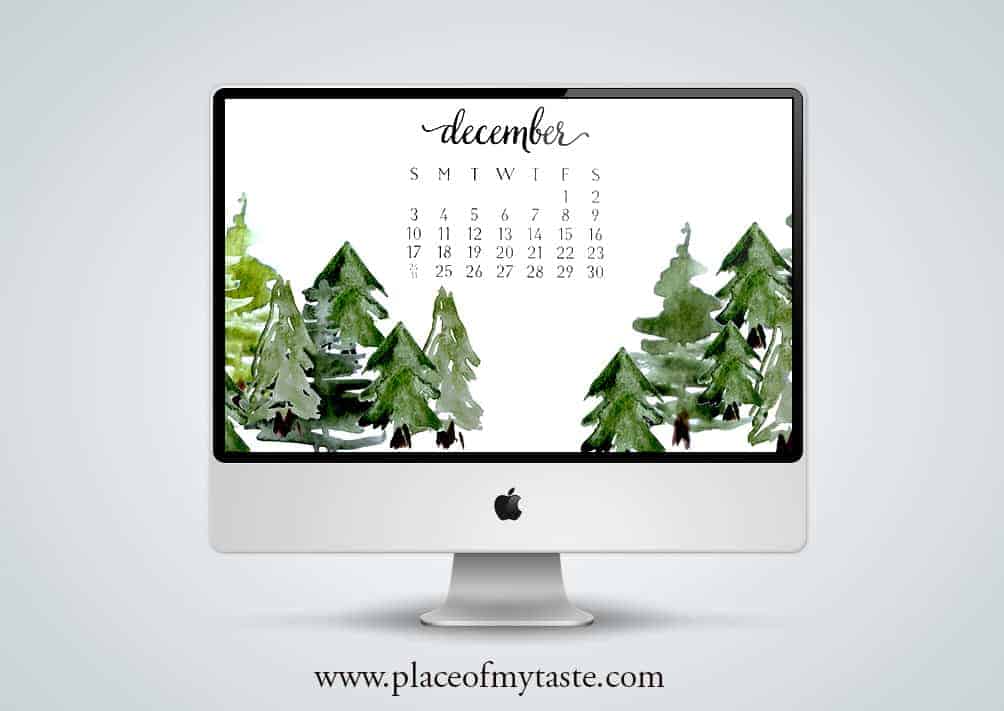 Are you in Holiday mood yet? I have not even bough the tree yet. We just got back from our vacation and I am still in vaca mode. Kind of. I am hoping to start decorating this weekend, though.
If you have been around here for long, you might recognize this screensaver.
Yup!
It's the same exact design as last year December's wallpaper. Some of you emailed me and asked for it again. I really loved these cute trees last year, and it looks like you all loved it too. So here it is. The same screensaver with updated with an updated calendar. I will continue sharing these fun screensavers in the upcoming year as well so be sure to check back here every month!
FREE desktop wallpaper for your computer or your phone from the link below!!
Below you can find some of my favorite watercolor products, brushes and watercolor. ( Affiliate links, please see my disclosure here.)
[amazon_link asins='B004M59O4C,B001S7K8X8,B00512C1VS,B0069F2OJU,B000OL3TQW,B0049UXGD0′ template='ProductCarousel' store='plofmyta-20′ marketplace='US' link_id='6c1af20d-8f45-11e7-93ff-1b0657b7c55e']
Enjoy!
PIN IT SO OTHER'S CAN ENJOY THIS PRETTY SCREEN SAVER TOO!
To use your screensaver:
When you click the link, it will open in a folder. From your laptop or computer, use the "down arrow" button at the top-right to download. Every device differs in ways to make an image as wallpaper. Usually, it's working this way the same way, though: right click the thumbnail and click on "set desktop picture."
Enjoy!!
If you would like to see the gallery of all my FREE WATERCOLOR paintings, click HERE!
And subscribe to my newsletter to get access to ALL my fun freebies!
And of course, here is a list for you on my very loved CHRISTMAS PROJECTS from the past!
And some of my MOST POPULAR POSTS!!!
Be sure to check out some of my favorite posts on Christmas!
Cheers,
Aniko